We had a full house for the Sweet Thames exhibition launch on Saturday at Cecil Sharp House in Storrow Hall, coincidentally where one of the earliest London folk clubs 'The Cellar' began in the mid-1950s.
The project team had fun setting up the exhibition banners, folk club bunting and audio posts in good time for attendees arriving soon after 2pm. A hearty buffet lunch was served in the bar and people wandered around chatting to old friends and new, taking it in turns to make their way around the exhibition. Audio posts played interview extracts and could be found hidden in various objects, including an old camera case, a beer tankard and a dancing shoe. Bunting created out of old folk music magazine cover copies adorned the walls.
After a few brief introductory talks about the project and thanks extended to all involved, the event turned into a sing-around hosted by two current folk club organisers who had been interviewees themselves. Some of the singers were important folk club participants from back in the early days and for some it was a new experience and audience.
A few snippets from the exhibition comments book relay what people thought of the event: "I loved the intimacy of holding an object to your ear and hearing someone's memories and tales" and "All those memories carried along with the words and the tunes – precious" and "Very interesting and informative. It's great how it's all come together. Lovely to see all the old photos and magazines especially".
After the event was finished a few people stayed on playing music and singing songs in the cafe. A great way to end the day.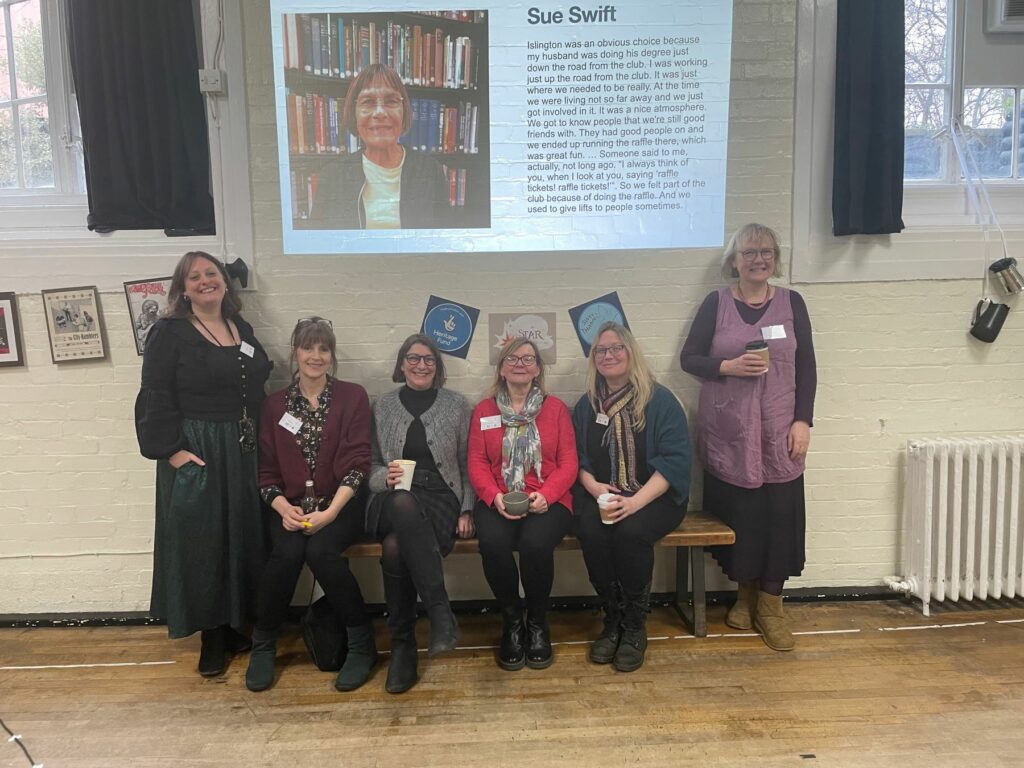 Main photo: Dave East and Doreen Leighter performing at the Exhibition Launch – photo by Sam Carroll